My eighth grader loves to write. Em is always writing short stories. She loves her creative writing class at our local homeschool co-op. The essays she writes with WriteShop are definitely one of her favorite assignments each week.
She certainly has accumulated quite a collection of writing materials. Her favorite pens and pencils have a designated spot on her desk. We've also begun a collection of tools that help her write even after her hands begin to fatigue from Ehlers-Danlos.
Are any of these tools on your writer's desk? Did I miss something that you consider a must-have?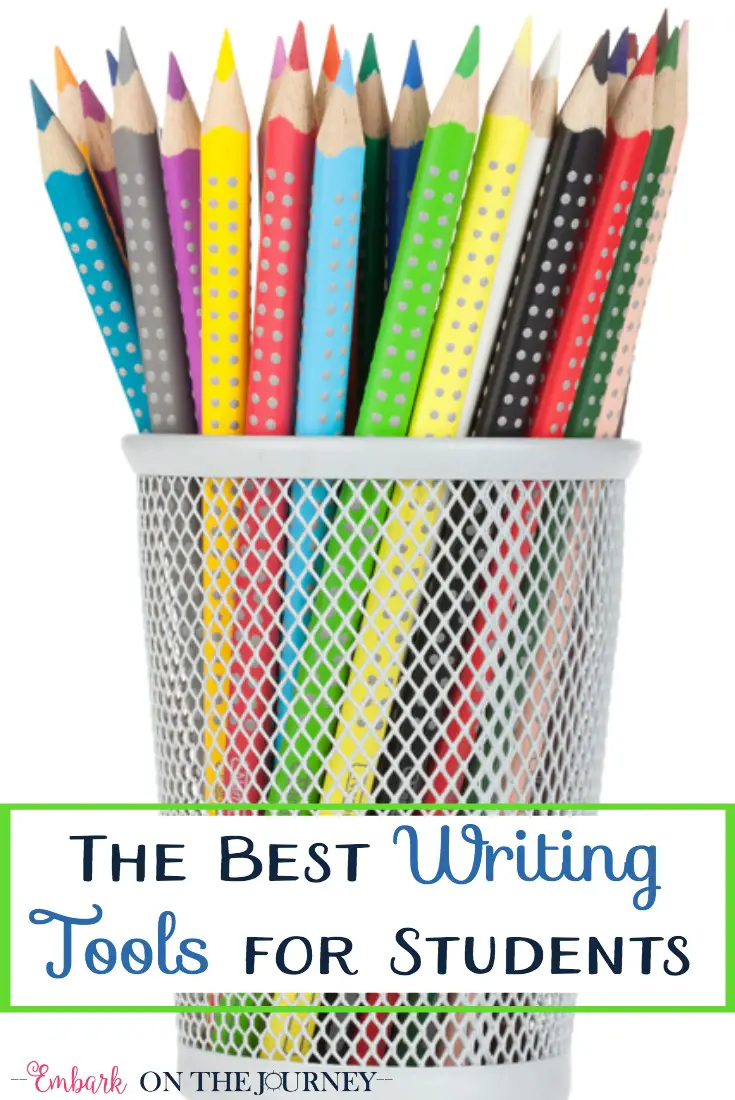 The Best Writing Tools for Students
1. Good pencils
My favorite pencil is the Ticonderoga pencil. The lead is nice and dark. It writes smooth, and it sharpens well. In fact, these are the pencils I sent with my middle child when he went off to college.
Though Emma loves to write, she struggles with hand fatigue when she writes too much in one sitting. So, we've collected a few tools to help combat this. First, we purchased triangle-shaped mechanical pencils from PaperMate. The lead is thicker than regular mechanical pencils so it doesn't break as easily. Because the pencil is triangle shaped, it encourages proper pencil grip for little hands (or hands that fatigue.)
Next, we discovered these Y-shaped pencils. They, too, encourage proper pencil grip for tired hands. However, Emma determined they are best suited for smaller hands than hers.
With these tools, she can write a bit longer before having to rest her hand.
2. Pencil grips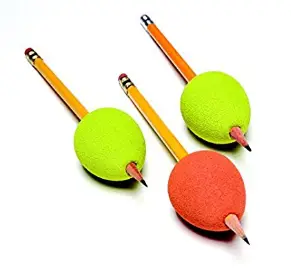 We also purchased a pack of egg-ohs pencil grips. We both love these! These rubber egg-shaped grips have helped her a lot, because they discourage her from having a death grip on her pencil. The tighter she grips, the quicker her hand fatigues (and the messier her handwriting is.)
3. iPad Keyboard
As I mentioned, Emma loves to write, but her wrist and hand fatigue. I don't want that to stand in the way of her love of writing. Recently, I started allowing her to type her stories and assignments on our computer. She can't put our computer in her backpack for co-op, however. So, I dusted off my iPad keyboard and let her pack that for her creative writing class. At home, she can type up her lessons and print them out. This allows her to continue writing without her hand cramping.
If you have a child who struggles to put pencil to paper, let them try typing their writing assignments.
4. Blank books
For kids who love to write, these blank books are a great place for them to create. They can publish their own books complete with story and illustrations. It's not only kids that can benefit from these books. College and university students can't get enough of notebooks, especially due to the amount of essays they have to write. Being able to write down notes, important advice like using different types of essay hooks within your work or even just to write down your timetable, everyone needs a blank book.
I've found these in the Dollar Spot at Target in the past. I've also bought them on Amazon. 
5. Erasable pens
Em really likes to write in color. She has been known to write each paragraph of a story in a different color. She's begged for years to be able to write with pen. I do not, however, like when she scribbles out her mistakes. So, I ordered her a set of erasable gel pen, and they've saved the day. She can write in pen, and she can erase her mistakes and turn in clean papers.
6. Washi tape
We may have a slight obsession with washi tape at my house. I've amassed quite a collection. When Emma was younger, she loved to write her stories and assignments on bordered notebooking pages. Today, she prefers to decorate her pages with washi tape.
What are your favorite writing tools?
Related posts