It's so fun to study birds all year long. These winter bird books for preschoolers are a great way to introduce little ones to the birds they may see in the yard during the winter months.
I love to see which birds come to my yard during different times of the year. There is some overlap throughout the year, but it's always fun to see which birds stick around during the cold and snow.
On the list below, you'll find picture books that young children can enjoy as they learn about different types of birds.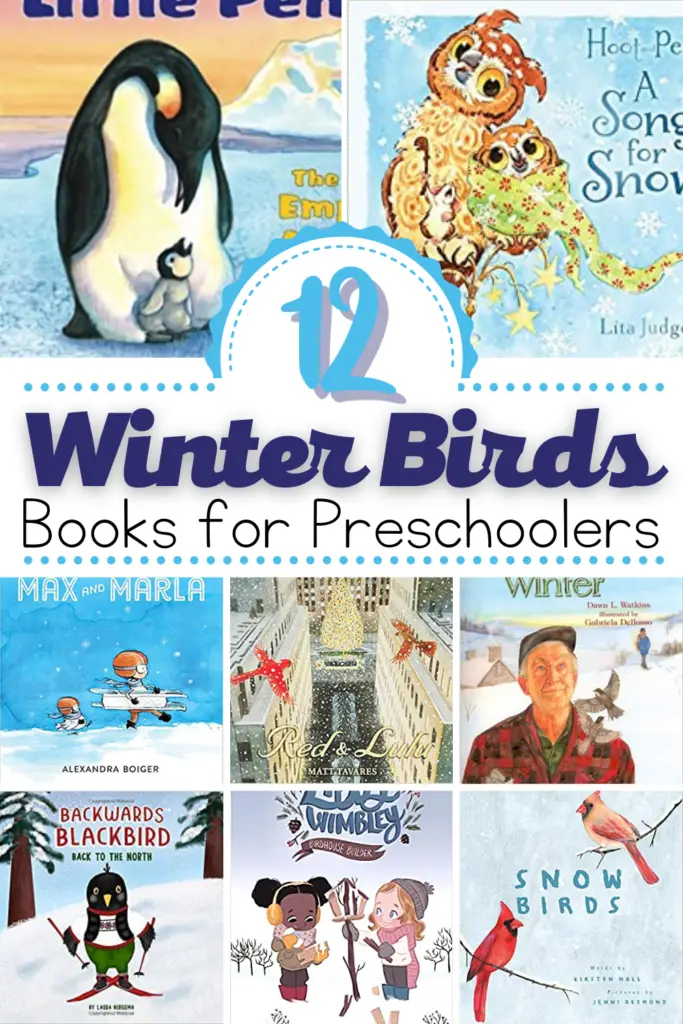 Winter Bird Books for Preschoolers
Below, I've featured just a handful of picture books that will help your preschoolers learn more about birds and how they live in the winter.
You should be able to find them at your local library or bookstore. If you can't find them locally, you can click each image cover to purchase them on Amazon.
Backwards Blackbird: Back to the North – Backwards Blackbird, he was born with different wings! But backwards wings are good for so many things…Meet Backwards – A little bird who is as different as can be… But his days are always fun because he goes where he can't see.
Snow Birds – With elegant verse and striking illustrations, Snow Birds salutes the brave and resourceful birds who adapt to survive the coldest months.
Little Owl's Snow – "Winter's almost here!" says Little Owl, as he observes leaves falling, animal friends hibernating, and a chill from his feathers to his feet. And just as he and his friend Racoon are watching their breath make fog in the cold air, it happens: Snow!
A Bird in Winter – Eight-year-old Mayken is a peasant girl who works in her mother's guesthouse. One wintry day she goes ice-skating with some friends and finds an injured bird.
Little Penguin: The Emperor of Antarctica – From the time the little penguin crawls out of his cracked egg, cradled on his father's feet, until the day when he goes off to live at sea alone, he is a majestic figure in an extraordinary setting—the emperor of Antarctica.
Winter Birds of Christmas – Christmas is alive for all who believe, including the creatures, big and small, living in the woodlands. The winter birds prepare for Santa's visit on Christmas Eve. They learn how important it is to help one another.
Owl Moon – A young child and her father search the moonlit woods for the Great Horned Owl.
Max and Marla – Max and Marla are best friends. And aspiring Olympians! With their eyes on the prize, they know exactly what it'll take to reach sledding success: preparation, practice and perseverance.
Libby Wimbley: Birdhouse Builders – It's a snow day for Libby and Becca! That means making snow angels, sledding, and looking for animal tracks, which leads them to some hungry birds. Libby and Becca decide to help the birds. They build them a treehouse to keep them warm and provide snacks so they won't be hungry.
Red and Lulu – Red and Lulu make their nest in a particularly beautiful evergreen tree. It shades them in the hot months and keeps them cozy in the cold months, and once a year the people who live nearby string lights on their tree and sing a special song.
Chickadee Winter – Jack doesn't think he will ever get used to the cold and snow at his grandparents' house. It's so different from the bronze beauty of New Mexico. But Grandfather's chickadees delight Jack and Nora by accompanying Grandfather into unfamiliar surroundings and they help Jack to understand that his new life might become bearable after all.
A Song for Snow – It's Peep's first winter, and it's going to snow very, very soon. Peep has so many questions for her older brother Hoot: Does snow drop, polppety splop, like the rain's song? Does it scrinkle scrattle like falling leaves? But Hoot can't remember snow very well. The one thing he knows for sure is that it is worth waiting for.
Which of these books about birds will you read first?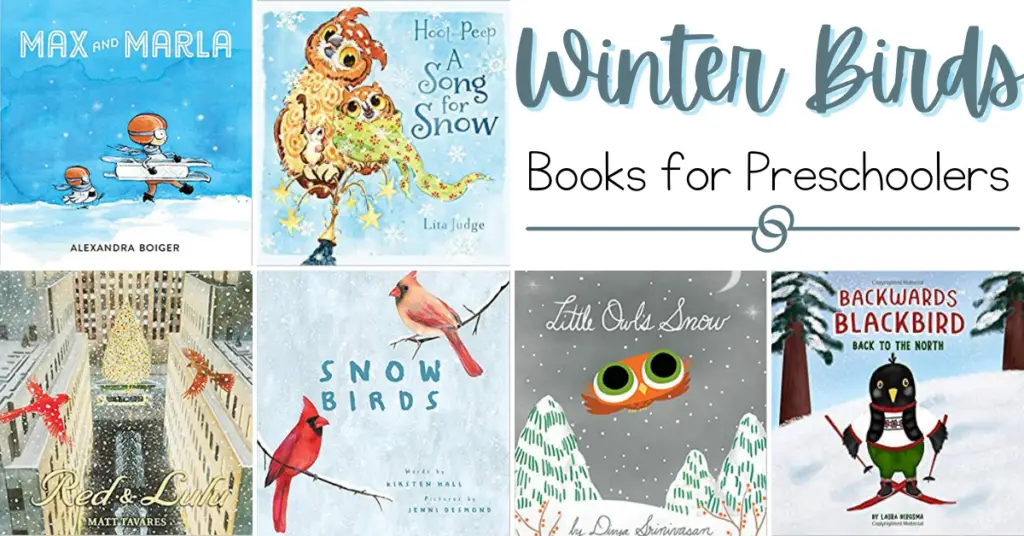 RESOURCES I LOVE
Learn more about birds, from songbirds to waterfowl to raptors! Young ornithologists get to design bird-protecting window clings, create different types of bird feeders and more in this exciting Feathered Friends kit!
You are a Bird Feeder Engineer and want to invent a groovy bird feeder design that's never been seen before. Can you design and build a bird feeder that meets the survival needs of local birds using upcycled materials?
Related Posts