This homeschool planning pack is designed to help you plan your March homeschool activities for kids ages 5-10. Printables, books, activities, and more.
Spring is just around the corner, and I am looking forward to having fun with some outdoor activities this month. There's much to celebrate! 
As with January's list and February's, I've compiled a list of fun resources and created a brand new printable for you to celebrate all month long!
What will you and your kids celebrate this month?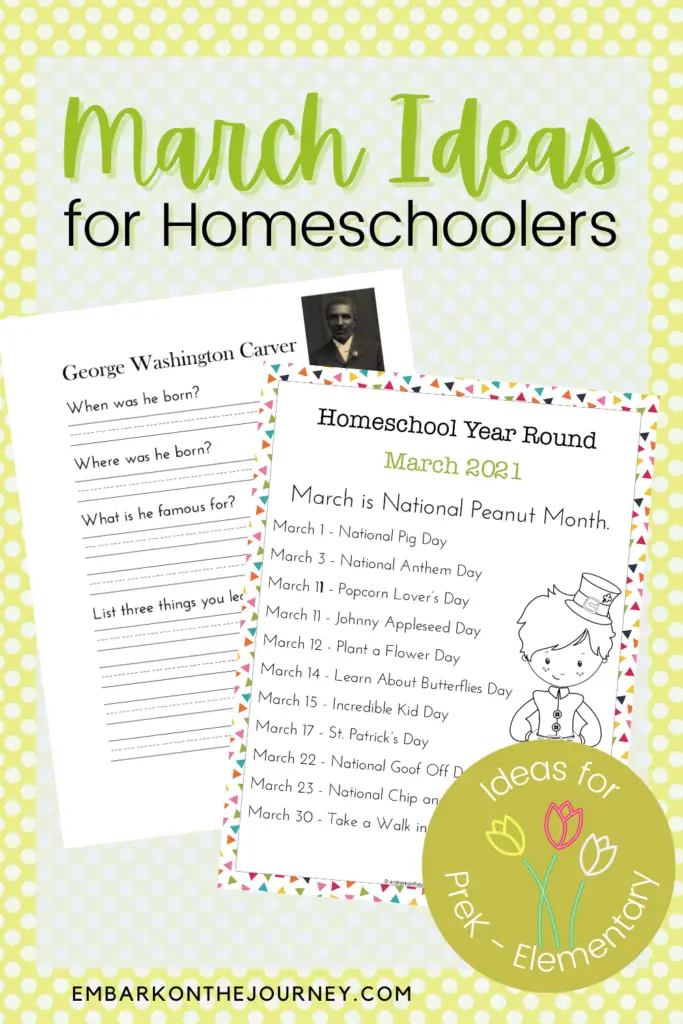 March Homeschool Activities
The more fun you can add to your child's educational experience, the more they'll enjoy it and stay engaged as you inspire a love of learning.
March is National Peanut Month. 
Have you ever tried to make peanut butter with your kids? If you don't have peanut allergies in your family, this is a fun activity. (Click the link above, and scroll down for instructions.) It's also a great time to teach your kids about George Washington Carver. 
March 1 is National Pig Day. I always wanted a pot-bellied pig when I was growing up. I don't anymore, but I still think pigs are super cute! 
March 3 is National Anthem Day. Learn about the origin of our national anthem, The Star Spangled Banner. Learn a little about the life of Francis Scott Key and the War of 1812. Color a picture of the American Flag to display. I've also included 4 different copywork pages. 
March 10 is Popcorn Lover's Day. My teenager thinks every day is Popcorn Lover's Day. That boy can eat a whole bag of popcorn by himself, and he does. Frequently. Popcorn is a compound word – two smaller words that come together to form a new word. Enjoy some popcorn today while you let your little one practice forming compound words with the pages in this month's printable pack. 
March 11 is Johnny Appleseed Day. Read about Johnny Appleseed. Print out my free Johnny Appleseed printable or this apple printable for your kids to enjoy. 
March 12 is Plant a Flower Day. I just love spring with all its beautiful spring blossoms. Em and I love to plant seeds and check them daily for growth.
Today would be the perfect day to start studying plants and seeds and flowers. Your kids may enjoy:
March 14 is Learn About Butterflies Day. One of our favorite spring-time science studies is butterflies. Several times, we have ordered butterfly kits
from Insect Lore. We get our caterpillars in the mail, and we love watching them turn in to butterflies. Last year, we even caught a butterfly emerging from its chrysalis. It was so very cool! Check out these fun butterfly-themed ideas, too. 
March 17 is St. Patrick's Day. Enjoy these fun St. Patrick's Day printable activities! 
March 27 is Easter Sunday! I love shopping for new Easter dresses and hiding Easter eggs. Emma always loves when the Easter Bunny hides her basket and sends her on a scavenger hunt for it. But, we also like to read the Bible and remember the real meaning of Easter. 
More fun dates to celebrate include: 
March 14 is National Potato Chip Day
March 15 is Incredible Kid Day. 
March 22 is National Goof Off Day. 
March 25 is Waffle Day.
March 30 is Take a Walk in the Park Day.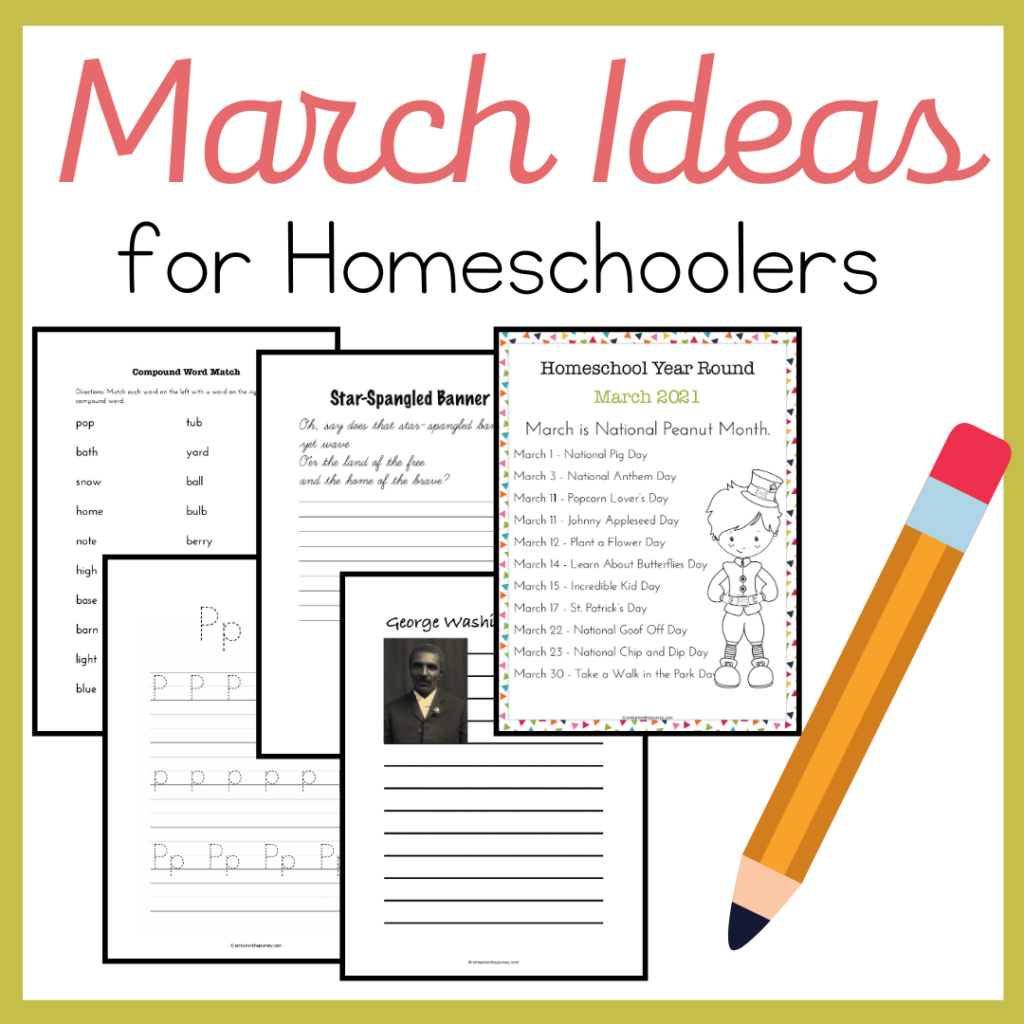 March HOmeschool Ideas Packet
In this month's printable, you'll find the following activity pages: 
Calendar of fun days to celebrate
George Washington Carver notebooking pages. 
Flag coloring page
Star-Spangled Banner copywork
and more!